New w/All About Skin!!
CUSTOM AIRBRUSH TANNING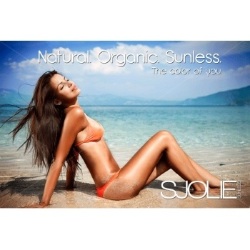 Natural, Organic Sunless Tanning!
Single Tan. $30
Buy 2 Tans for $45
Buy 5 Tans for $100
*Tanning Party Packages available!!
Have a Party of 5 or more & the Host tans for FREE!!
Guests tan for $25
Achieve the very Best sunless tanning results!
18-24 Hours Prior to Your Session
-Exfoliate with gentle spa grade exfoliatants designed for sunless tan preparation. (Sjolie Body Scrub)
-If you do not have a suitable body scrub, it is recommended to use shampoo and a loofah for the exfoliation process.
Day of Session
-Do not apply deodorant, perfume, body oils or moisturizer to skin (unless advised by your tanning professional) as this can create an uneven tan.
-Wear dark, loose fitting cotton clothing and flip flops to your spray tanning appointment to avoid visual rub off or staining of your clothing.
After Session Care
-Avoid any activity that would cause sweating. Contact with water or sweat could result in lines or uneven tanning.
-If you choose to sleep in your spray tan, wear a long sleeve cotton shirt and long cotton bottoms.
-The life of your spray tan depends on how well you take care of your skin. It is important to always pat dry when exiting the shower.
-Moisturizing twice a day with a tan extend lotion (Sjolie Ultra Tan Extend) can add 2-3 days to the life of your tan.
-It is also important to use a gentle non acidic body wash (Sjolie Body Wash) to avoid stripping your tan.
-The following products have been shown to reduce the duration and quality of your sunless tan: anti-aging, acne products and bar soap.
-If at all possible, you should try to avoid contact with chlorine. This can lead to premature fading of a spray tan.
Please contact me, Kari, at All About Skin (209)327-3959 with any questions or concerns you may have about your spray tan, or to make a New Appointment!